Hello to everyone – I hope your Halloween was sweet and whetted your appetite for the second part of the SHF round-up. I am very grateful for everyone's patience and indulgence as I sorted through a truly inspiring array of entries. I want to mention again just how blown away I am by all the baking talent out there; I was amazed and humbled by all your creativity and skill. Even as I trying to get all the entries up as fast as I could, I kept being distracted by all these wonderful blogs I was discovering, and wanted to spend my time reading them instead!
So thank you for letting me be your host, and for helping me expand my ever-growing circle of blogs to visit! Without further delay, onward to the second half of the Spices round-up!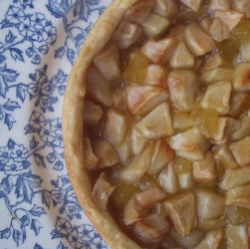 Linda of Make Life Sweeter! baked this beautiful Apple Tart with Crystallized Ginger – I love the plate it's on as well!
Peabody of Culinary Concoctions by Peabody used one of my favorite fall fruits in her Pear Nutmeg Bread Pudding.
Ivy of Kopiaste used pumpkin, apples, and quince to make a true Autumn Pie.
Madam Chow of Madam Chow's Kitchen is ready for the holidays with her Eggnog Ice Cream Profiteroles with Chocolate Sauce.
Mike of Mike's Table has a classic combination going with his Caramelized Apple and Cinnamon Cream Tart.
Aimee of Under the High Chair sent in a truly gorgeous Tonka Bean Spiced Apple-Raspberry Cake – I always love seeing tonka beans used!
Esi of Dishing Up Delights came up with a very restaurant-worthy dessert: Pumpkin Shortcakes with Apple Compote and Vanilla Honey Ice Cream.
Vanille of @ Down Under contributed her Spicy Pistachio Candy – love the color and the photo!
Yasmin of Almond and the Hazelnut makes an eyecatching SHF debut with her Persian Love Cake. 
Amanda of Slow Like Honey sent in a gorgeously assembled and plated Spiced Pumpkin Cheesecake with Chocolate Ganache.
Elodie of Yummyaourt baked some Hackney Chelsea Buns – perfect for a chilly morning.
Veronica of Veronica's Test Kitchen, the macaron goddess, sent in her latest version – Macarons with Saffron-Pear ganache.
Chris of Melecotte gets warms and cozy with Baked Spiced Pears.
Leah of
Wine Imbiber
uses of my favorite savory spices in her
Chipotle Apple Pecan Cake
Kristin of Figue et Noisette made some really tempting Pear and Apple Compote with Spiced Butter Biscuits.

Lauren of I'll Eat You contributed some Sweet and Spicy Pecan Brittle – brilliant, since I've been experimenting with brittles!
Lisa of dandysugar made a Thyme-Scented Apple Galette – so perfectly simple and delicious.
Vera of Baking Obsession gives an Asian twist to pumpkin with her beautiful 5-Spice Pumpkin and Date Loaf.
Sandra of Le Petrin turns financiers in a fancy dessert with her Spiced Financiers with Poached Spiced Pears.
Paula of Half-Baked Baker baked these truly decadent Autumn Pumpkin Muffins with Pecan Toffee Streusel.
Stephanie of Confessions of a City Eater sent in these wonderfully named Spiced Sugar Coins.
Monica of the sour plum baked some yummy-looking Macarons au pain d'épice  – lovely form!
Susan of The Well-Seasoned Cook made a Yorkshire Parkin, which I hadn't heard of before, so thank you for introducing me to this!
Cakelaw of Laws of the Kitchen contributed her Spicy Banana Cake, an excellent way to use up ripened bananas.
Denise of Chez Us made a really scrumptious Pumpkin Crème Brulee – I just had some at a restaurant last night and now I'm craving more!
Holly of PheMOMenon goes over the top with her Chocolate Gingerbread Cookies.
Mansi of Fun and Food Cafe makes a moist and hearty Chocolate Zucchini Bread.
Jacqueline of Toxo Bread has some Kanelbulle – so exquisitely shaped!
Anh of Food Lover's Journey amazes again with her absolutely stunning Star Anise Chocolate Mousse.
Judith of Shortcut To Mushrooms made a cozy, tempting Spice Cake.
Celia of English Pastis is making me long for a tropical vacation with her Mango & Cardamom Upside-down Cake.
Mary of Alpineberry is all ready for the holidays with her All-in-One Holiday Bundt Cake.
Susan of FoodBlogga sent in these intricately formed, delicate Pizzelles.
Marija of Palachinka created this stunning Strawberry & Poppy Seed Cake.

Kate of A Merrier World gets everyone's spice senses tingling with her Chai Chilli Biscuits.
Winnie of Bake From Scratch overachieved with two spectacular-looking desserts: Sticky Spiked Double-Apple Cake w/ Brown Sugar-Brandy Sauce
and Spiced-Quince Butter Cake w/ Candied Walnuts.
Kara of Kara's Kitchen makes me think of Charlie Brown with these Great Pumpkin Cookies.
Renato of Sugar Nut gets most creative with these Spicy Fruit Skewers.
Katharine of the Fresh Dish sent in a Plum, Pear, and Cardamon Coffee Cake with Southern Comfort, Saffron, and Ginger Ice Cream – yes it's a mouthful!
Angela of A Spoonful of Sugar makes an adorable presentation with her Spiced Pumpkin Pots de Creme.
Helena of MooseAbout sent in these very cutely named Zesty Date Cookies with Marshmallow Beaks.
Bron of Bron Marshall contributes these delicious Spiced Manuka Oaties, all tied up for giftgiving!
Nicisme of Cherrapeno made this wonderfully decadent, luscious Chocolate Gingerbread Cake.
Andrew of Spittoon Extra finishes off SHF with some beautiful candy-colored Vanilla Poached Quinces.
Again, if I've made a mistake with anyone's photo, name, links, let me know and I'll fix it right away. Also if I've forgotten anyone, PLEASE e-mail me. I've gone through my inbox several times and I think I've got everyone who entered, but if I inadvertently left someone out, I will of course rectify that immediately.
Thanks again everyone! It was a fun and memorable experience, and I look forward to seeing more of all of your sweet creations in the future!