Lemon Verbena Cake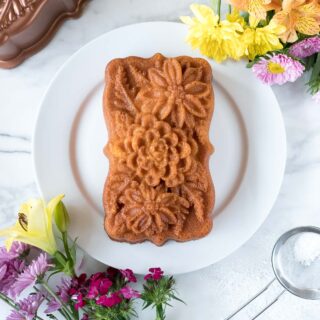 7 tablespoons (100 g) unsalted butter, room temperature
1 cup (200 g) sugar
3 tablespoons finely chopped fresh lemon verbena leaves OR zest from 2 lemons
2 large eggs, room temperature
1½ cups (188 g) all purpose flour
1 teaspoon baking powder
½ teaspoon baking soda
¼ teaspoon salt
½ cup (122 g) whole milk
¼ cup lemon juice
1 teaspoon vanilla bean paste
Preheat the oven to 350 degrees. Grease a 8½"x 5" (6 cup capacity) bundt pan well and lightly dust with flour, or use a baking spray with flour.
Cream the butter and sugar together in a mixer fitted with the paddle attachment until light colored and fluffy.
Add the eggs, one at a time, and beat until combined.
Add in the lemon verbena or lemon zest and mix until incorporated.
Sift the flour, baking powder, baking soda, and salt together in a medium bowl and set aside.
Combine the milk, lemon juice, and vanilla in a small bowl.
Add the dry and liquid mixtures to the mixing bowl alternately, beginning and ending with the dry mixture. Mix just until everything is combined.
Pour batter into prepared pan until about ¾ full - you may have leftover batter.
Bake for 45-50 minutes until a tester comes out clean. Let cool on wire rack.