Superhero Girl Vanilla Bean Cupcakes with Vanilla Swiss Meringue Buttercream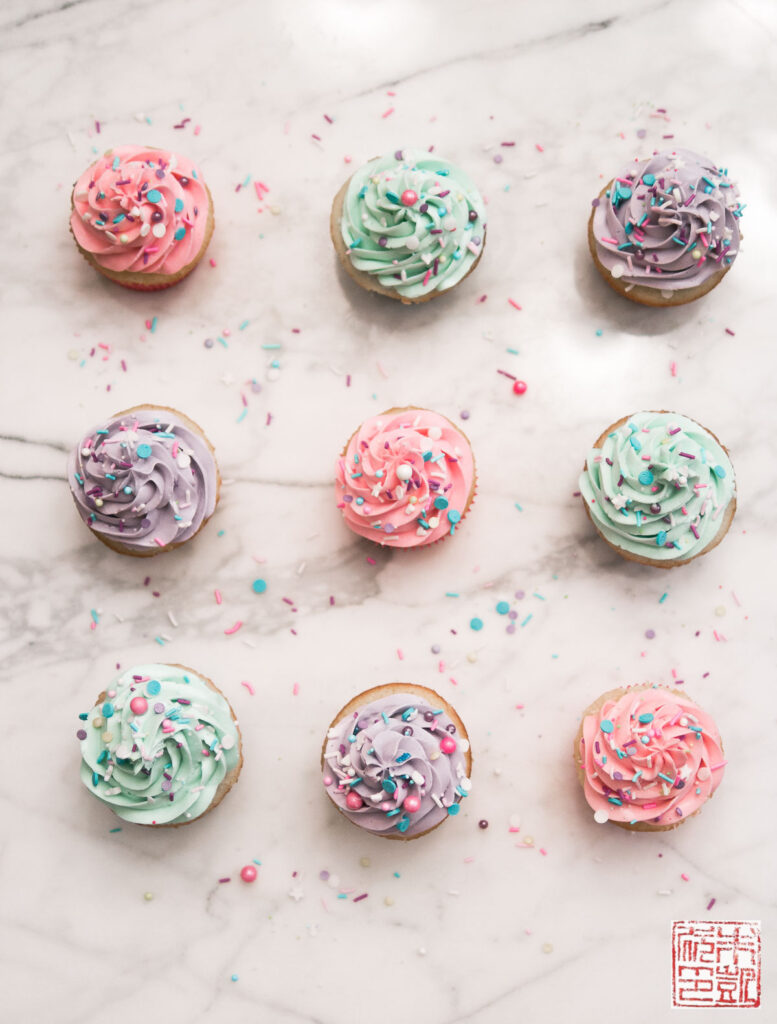 3 cups (330 g) cake flour
2½ teaspoons baking powder
1 teaspoon salt
1 cup (230 g) whole milk
4 teaspoons Tahitian vanilla bean extract
1 cup (220 g) unsalted butter, room temperature
2 cups (400 g) sugar
4 large eggs
1¼ cups (250 g) sugar
5 large egg whites
15 ounces (425 g) unsalted butter, room temperature, cut into 1-in pieces
1½ teaspoons vanilla extract
Food coloring as desired
Preheat oven to 350 degrees F. Line two 12-cup muffin tin with cupcake liners.
Sift the flour, baking powder, and salt together into a medium bowl.
Combine the milk and vanilla bean extract together in another bowl.
Cream the butter and sugar together in a stand mixer with paddle attachment on medium speed until soft and creamy.
Add in eggs one at a time, beating thoroughly after each addition to combine before adding the next.
Add in the flour mixture and milk mixture in three alternating additions, starting and ending with the flour mixture. Beat just to combine each addition before adding the next.
Using an ice cream scoop or a spoon, fill each cupcake liner about ¾ full with batter. Bake in oven for 16 to 20 minutes, rotating the pan halfway through, until a toothpick inserted in the cupcakes comes out clean.
Let cupcakes cool in tin on a wire rack until cool before decorating.
Combine the sugar and egg whites in a medium metal bowl and place over a pan of simmering water.
Whisk the sugar mixture constantly over heat until the sugar is dissolved and the mixture looks smooth and shiny. Continue whisking until the mixture reaches 160 degrees F.
Remove mixture from heat and pour into a stand mixer bowl. Whisk on medium speed for about 5 minutes until the mixture has cooled.
Switch to the paddle attachment and with the speed on low, add the butter a few pieces at a time, beating until smooth. Do not add the butter too quickly or beat too quickly or the buttercream may break.
When all the butter has been added, beat the buttercream on medium-high speed for about 6-10 minutes until it is very thick and smooth. It may appear to separate briefly but continue beating and it should come back together.
Add in the vanilla extract and beat to combine. Add food coloring as desired.
Place buttercream in a piping bag fitted with a star tip (I use Ateco closed star 846). Pipe frosting onto each cupcake.
Recipe by
Dessert First
at https://dessertfirstgirl.com/2018/03/superhero-girl-cupcakes.html