Chinese Cocktail Buns (Gai Mei Bau)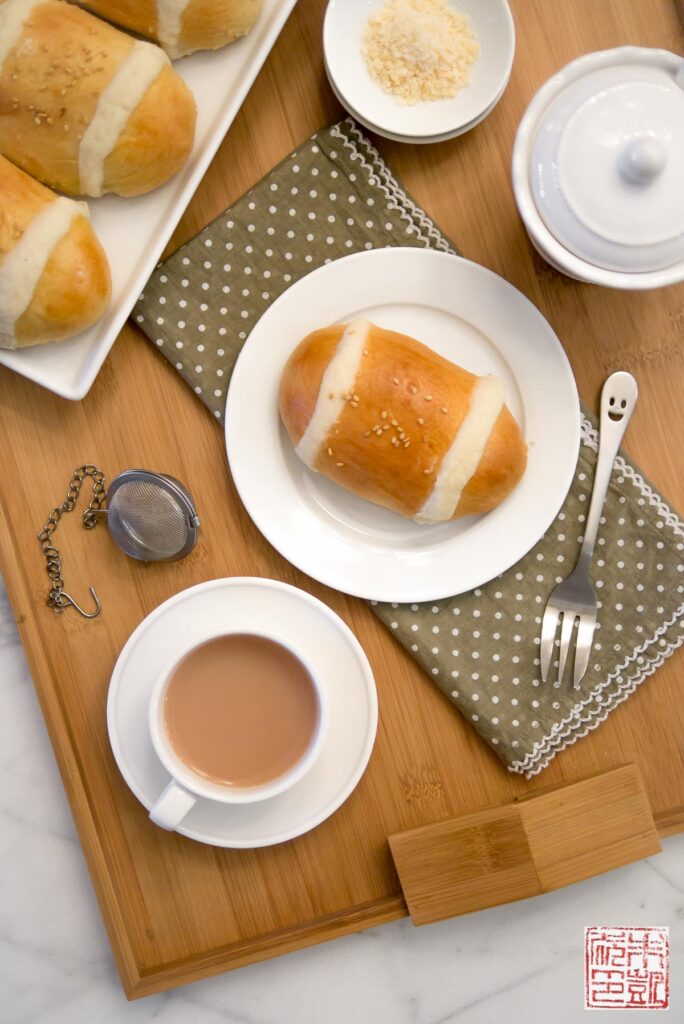 25 g bread flour
100 ml water
125 ml whole milk, lukewarm
2¼ teaspoons active dry yeast
350 g bread flour
60 g sugar
1 teaspoon (5 g) salt
1 large egg, plus another for egg wash
30 g unsalted butter, room temperature
45 g desiccated coconut or dried coconut flakes
40 g sugar
90 g unsalted butter, room temperature
40 g cake flour
80 g cake flour
80 g unsalted butter, room temperature
40 g sugar
1 egg, beaten, for egg wash
sesame seeds
Whisk flour and water together in a small saucepan. Place over medium-low heat on the stove.
Cook, whisking constantly, until the mixture thickens into a pudding-like consistency and you can leave lines in the mixture, about 5 minutes. You might be tempted to walk away from the mixture at the beginning when it's taking a while to thicken, but don't - it will come together surprisingly quickly and you don't want it to overcook. If you want, you can check the temperature - it's finished when it reaches 65 degrees C (149 degrees F), but I don't find it necessary.
Let the tangzhong cool to room temperature before using. You can also store in the refrigerator for a couple days and bring to room temperature before using. If you see grayish spots in the tangzhong, discard it and make a fresh batch.
The milk should be at 108-110 degrees F to develop the yeast (any hotter and it will kill the yeast). Combine yeast and milk and 2 teaspoons of the sugar in a small bowl and let stand for about 5-8 minutes until yeast is bubbly.
Combine the flour, sugar, and salt in the bowl of a stand mixer. Add in the yeast mixture, the tangzhong, and the egg.
With a dough hook attachment, mix all the ingredients until it comes together into a soft, sticky dough, about 10 minutes.
Add in the butter and mix to incorporate. Continue beating the dough for about 10-15 minutes until the dough is smooth and elastic. You should be able to stretch the dough out fairly thin without it breaking (the windowpane test). If it breaks right away when you try to stretch, mix it for a couple more minutes.
Turn out the dough into an oiled bowl and cover with plastic wrap. Let proof for about 40 minutes until dough has doubled in size. The amount of time this takes will depend on the ambient temperature. I like to leave the bowl on top of the stove (no burners turned on) but with the oven turned to 250 degrees.
Before the dough is finished proofing, line two baking sheets with parchment paper and silicone baking mats. You can also make the filling and topping ahead of time (directions below).
When the dough looks like it has doubled in size and is puffy to the touch (if you poke the dough it should hold the indent and slowly fill back in), take the dough and split into 12 equal pieces. Roll each piece into a ball. Place on prepared sheets. Cover with plastic wrap and let rest for 15 minutes.
Roll out each ball into a long oval. Spread some of the filling across one side of the oval.
Roll up the dough lengthwise into a long cigar shape. Tuck the ends under to seal.
Place the filled bun seam side down on prepared baking sheet. Repeat with rest of dough.
Cover buns with plastic wrap and let proof for another 40 minutes until doubled in size again.
Preheat oven to 350 degrees F. Remove plastic wrap and brush buns lightly with egg wash. Pipe two lines of the topping over each bun. Sprinkle with sesame seeds.
Bake for about 13-16 minutes until golden brown and buns are firm and dry to the touch. Remove from oven and let cool on wire racks before eating. You can store them in a covered container for 4-5 days, but they are best within the first couple of days.
Combine coconut and sugar together in a food processor and process until fine.
Add in the butter and cake flour and process until it is a smooth paste.
Combine the flour, butter, and sugar together in a mixer, food processor, or by hand until smooth. Scrape into a sandwich bag or disposable piping bag and close.
Snip off one corner when you are ready to pipe the topping on the buns.
Recipe by
Dessert First
at https://dessertfirstgirl.com/2016/03/chinese-cocktail-buns-gai-mei-bau.html