Dulce de Leche Ebelskivers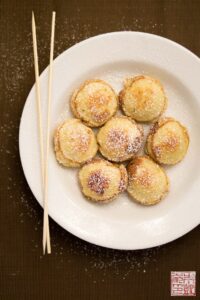 One 14-ounce can sweetened condensed milk
¼ teaspoon salt
1 cup (125 g) all purpose flour
2 tablespoons sugar
¾ teaspoon ground cardamom
½ teaspoon baking powder
¼ teaspoon salt
2 large eggs, separated
1 cup (230 g) whole milk
2 tablespoons (30 g) unsalted butter, melted, plus extra for cooking
1 teaspoon vanilla extract
Fillings as desired
Preheat the oven to 425 degrees F.
Pour the condensed milk into a shallow baking pan or pie dish. Sprinkle with the salt and cover the dish with foil.
Place baking pan into a larger roasting pan. Pour enough hot water into the roasting pan to reach halfway up the sides of the baking pan.
Place roasting pan with baking pan inside, in the oven and bake for about 60 minutes until dulce is dark and thick and caramelized. Check occasionally while baking and if the water level has dropped add more water.
Remove baking pan from roasting pan and whisk dulce until smooth. Let cool.
Whisk together the flour, sugar, cardamom, baking powder, and salt in a medium bowl.
Whisk the egg yolks and milk together in a large bowl. Add in the melted butter and vanilla extract and whisk to combine.
Add the dry ingredients to the milk mixture and just to combine. The mixture will still be lumpy - don't overmix.
Whisk the egg whites in a stand mixer until stiff peaks form, about 2-3 minutes. The whites should be stiff but not dry.
Gently fold the egg whites into the batter with a rubber spatula.
Fill wells of ebelskiver pan with ¼ teaspoon of melted butter. Heat on medium high until butter starts to bubble.
Pour one tablespoon of batter into each well. Spoon one teaspoon of filling on top of each round of batter. Spoon one tablespoon of batter on top of the filling to close up the ebelskiver.
Cook until bottoms of ebelskivers are golden and crisp, about 3-4 minutes. Using wooden skewers (preferred) or a knife, carefully turn the ebelskivers over and let them finish cooking, another 3-4 minutes.
Transfer to a plate and serve immediately.
Recipe by
Dessert First
at https://dessertfirstgirl.com/2016/01/dulce-de-leche-ebelskivers.html