Guava Mango Passion Fruit Mini Cakes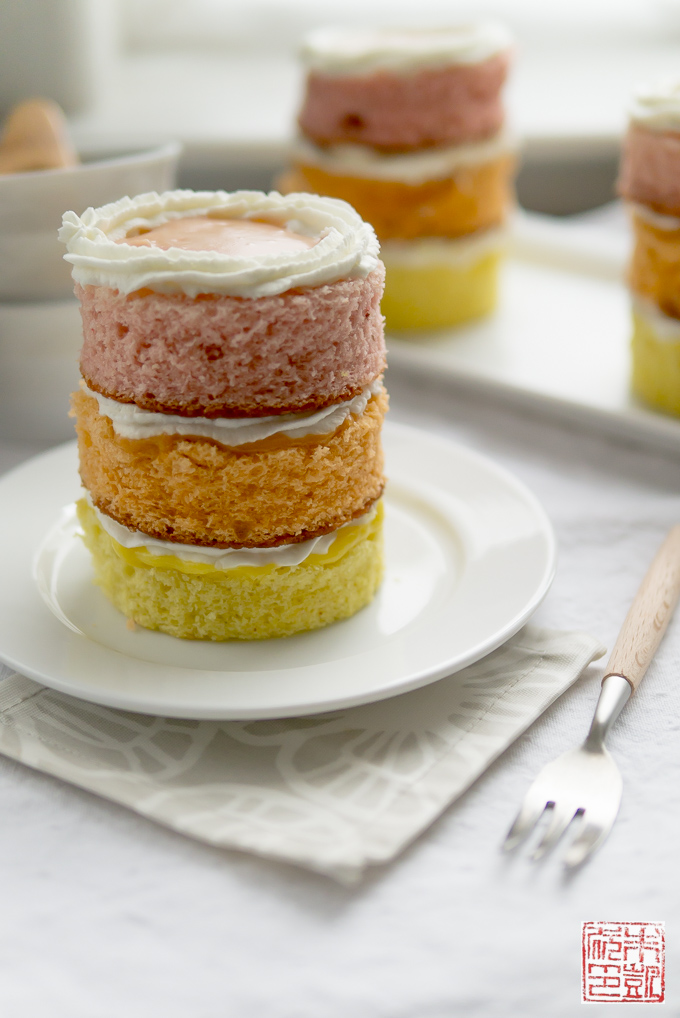 Serves:
(1) 9" 3-layer cake or (4) 3-layer mini cakes
1½ cups sugar (300 g), divided
2 cups (8 oz) cake flour
3 teaspoons baking powder
¾ teaspoon salt
½ cup (100 g) vegetable oil
¼ cup(58 g) whole milk
¼ cup guava, mango, or passion fruit juice concentrate, thawed, or puree
7 large eggs, room temperature, separated
2 teaspoons vanilla extract
½ teaspoon cream of tartar
Food coloring as desired
Note: if you want three different flavor fruit curds, divide the amounts below by three and make three batches with the fruit nectars of your choice.
3 large eggs
½ cup (100 g) sugar
¾ cup guava, mango, or passion fruit nectar or puree
4 ounces (57 g) unsalted butter, room temperature, cut into 1-in pieces
1 cup(230 g) heavy cream
¼ teaspoon vanilla extract
Preheat oven to 325 degrees F. Grease the bottoms of three 9" round x 3" high cake pans and line with rounds of parchment.
Whisk together one cup of the sugar with the flour, baking powder and salt. In a separate bowl, beat the oil, milk, fruit nectar, egg yolks and vanilla extract until pale yellow. (Note: If you are making three different color layers, you can wait to add the fruit nectar until you have added the dry ingredients. Then divide the mixture into three equal portions and add 2 tablespoons of fruit nectar to each one, and food coloring to match if desired).
Add the dry ingredients and beat until well blended. Add in food coloring as desired and beat to combine.
In a stand mixer, whip the egg whites on medium-low with the cream of tartar until foamy. Increase speed to high and beat to soft peaks.
Gradually add the remaining half cup of the sugar in a slow, steady, stream and continue whipping to glossy, firm peaks. Do not overbeat - you do not want to whip to stiff peaks.
Gently whisk about one-fourth of the egg whites into the cake batter. Add in the remaining egg whites and fold in very gently, avoiding deflating the egg whites as much as possible. (Note: Again, if you are making three different color layers, gently divide the egg whites into three equal portions and add individually to the three separate batters.)
Pour the batter into the prepared pans. Bake for 25 to 30 minutes. The tops should rise, turn golden brown, and spring back to the touch when lightly pressed. Avoid opening the oven door unnecessarily as this will make the cakes deflate. Use the oven light and check at 20 minutes for doneness.
Remove from oven and let cool on wire rack completely before attempting to unmold. Run a thin, sharp knife around the border of the cake and invert to unmold.
Create a water bath by placing a saucepan of water over heat to simmer and placing a metal bowl unto the pan so its bottom does not touch the water. Whisk the eggs, sugar, and fruit nectar or puree together in a metal bowl.
Cook the mixture over the simmering water, whisking constantly, until the curd reaches 180 degrees and thickens. Keep whisking while the mixture is heating up to prevent the eggs from cooking.
Once the curd is thickened – you should be able to make tracks in the mixture with your whisk – take the curd off the heat. Let the curd rest for a bit until it cools to about 140 degrees.
Add in the butter pieces a few at the time and whisk to combine.
Pour into a container and chill in refrigerator before using.
Level off the cakes with a serrated knife. If you are making mini-cakes, use a 3" round biscuit cutter to cut out four rounds from each layer.
Place bottom layer on a plate. Spread a layer of fruit curd on top. Pipe a layer of whipped cream over the fruit curd.
Place second layer gently over the whipped cream. Spread a layer of fruit curd on top. Pipe a layer of whipped cream over the fruit curd.
Repeat with the final layer of cake. Spread a layer of fruit curd on top. Pipe a ring of whipped cream over the top or decorate as you like.
Serve
Recipe by
Dessert First
at https://dessertfirstgirl.com/2015/09/guava-mango-passion-fruit-cake.html