Honey Cashew Morning Buns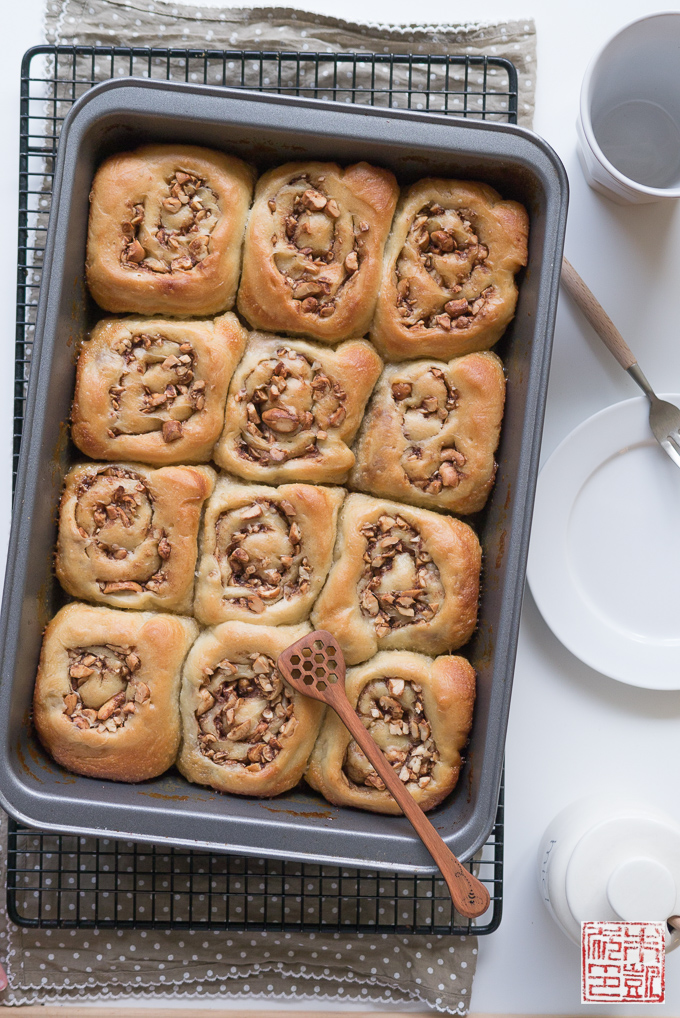 1 cup (240 g) water, room temperature
½ teaspoon active dry yeast
2½ cups (350 g) unbleached all-purpose flour, plus more as needed
1¼ teaspoons kosher salt
¼ cup (50 g) olive oil or other mild vegetable oil
½ cup (115 g) unsalted butter
½ cup (170 g) honey
½ cup (120 g) heavy cream
½ cup (120 g) water
¼ teaspoon kosher salt
2 cups (240 g) raw unsalted cashews, roughly chopped
½ cup (115 g) unsalted butter, very soft
2 teaspoons ground cinnamon
Lightly oil a large bowl.
Combine water and yeast in bowl of stand mixer. The water should be no hotter than 110 degrees F or it will kill the yeast. Let sit for about 20-30 seconds to let yeast dissolve and activate.
Add flour and salt and mix on low speed with the dough hook until it is combined into the water and yeast.
When the dough is coming together but still shaggy and rough looking, drizzle in the olive oil along the side of the bowl.
Mix dough on low speed for 4 to 5 minutes until it is smooth and supple, and has an elastic, stretchy consistency. It should not be overly sticky. If it is very stiff, add in 2 to 3 tablespoons water. If it is very loose, add in 2 to 3 tablespoons flour.
Turn out dough into the oiled bowl. Cover the bowl with a piece of plastic wrap or damp, lint-free cloth.
Place bowl in a warm place (ideally 78 to 82 degrees F/25 to 28 degrees C). I like to place it near the stove. Let dough rise until doubled in size, about 2 hours.
Melt the butter in a medium saucepan over medium heat.
Add in the honey, cream, water, and salt and whisk to combine.
Remove pan from heat and let cool for about 30 minutes. You can also store this goo in the refrigerator for up to 2 weeks.
Toast cashews in a 350 degree oven for 8 to 10 minutes. Let cashews cool.
Punch down the proofed dough to deflate it. Roll out the dough on a floured surface to 12-in square about ¼ in thick.
Combine the cashews, butter, and cinnamon together in a small bowl with a wooden spoon. Spread the mixture evenly over the surface of the dough.
Starting from the top of the square, roll the dough loosely like a jelly roll until the entire sheet is rolled up.
Using a sharp knife, trim both ends of the roll. Cut the roll into 12 equal pieces, each about 1 inch thick. At this point you can wrap them in plastic and freeze for up to 1 week if desired.
Pour the honey goo into a 9 in x 13 in baking pan. Arrange the buns evenly in the pan, reshaping them as necessary.
Cover with plastic wrap and proof for another 1 to 2 hours until the buns have become puffy, pillowy, and have filled the pan, touching each other.
Fifteen minutes before the buns are ready to bake, preheat the oven to 400 degrees F.
Bake buns for 40 to 50 minutes until buns are light golden brown - do not over bake. Remove from oven and let cool on wire rack for 10 to 20 minutes.
Using a spatula, invert the buns, one at a time, onto a serving platter. Serve warm, immediately or within 4 hours of making. You can serve them the next day after re-warming in a 300 degree oven for 6 to 8 minutes.
Recipe by
Dessert First
at https://dessertfirstgirl.com/2015/07/honey-cashew-morning-buns.html