Valrhona Lemon White Chocolate Tart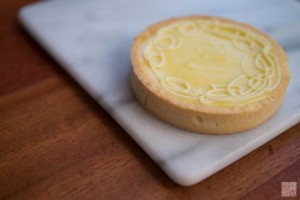 5 oz (142 g) unsalted butter, room temperature
¾ cup (100 g) confectioners' sugar
½ cup (50 g) almond meal or ground blanched almonds
¼ teaspoon vanilla extract
¼ teaspoon salt
1 large egg, room temperature
2 cups (255 g) all-purpose flour
250 g freshly squeezed lemon juice
zest of 1 lemon
80 g sugar
5 large eggs
200 g white chocolate (I used Valrhona Ivoire couverture)
10 g cocoa butter
Place the butter in a food processor and process until soft and creamy. Add the confectioners' sugar and process until well blended and smooth.
Add in the almond meal, vanilla extract, and salt and process until well blended. Add in the egg and process until just blended; scrape the bowl down as necessary.
Add the flour and pulse just until the dough starts to come together into a ball; don't overprocess. The dough will be very soft like cookie dough.
Scrape the dough out of the food processor and make into a ball. Flatten out into a disk, wrap in plastic, and chill in refrigerator for at least 4 hours until it is firm enough to handle.
When you are ready to bake off the tart shells, take the dough out of the refrigerator – let it warm up a bit if necessary but not too much because it will start softening fast.
Roll out the dough between two sheets of plastic wrap to ⅛" thickness. If the dough gets too soft, place back in the refrigerator to firm up.
Cut out circles of dough to fit into desired tart rings. Press the dough carefully into the tart rings and up the sides, being careful not to stretch the dough or it will shrink when baked. Place the rings into the refrigerator to chill for at least 30 minutes. Trim off the excess dough from the top of the rings.
Heat the oven to 350 degrees F while chilling the tart shells. When you are ready, line the shells with parchment and fill with beans or rice to keep the shells weighed down.
Bake shells for about 15-18 minutes until they are lightly colored and the shell feels dry to the touch. Remove from the oven and place on a rack. Remove the beans and parchment and brush the bottoms of the shells with a light egg wash (made from an egg white and a bit of water). Let cool before filling.
Combine lemon juice, sugar, zest and eggs together in a large metal bowl. Place white chocolate and cocoa butter in a separate large bowl.
Place bowl over saucepan of simmering water and cook slowly over medium heat, whisking constantly, until mixture thickens.
Remove from heat and pour over the white chocolate and cocoa butter. Stir vigorously until combined and chocolate is fully melted.
Pour out lemon cream into a clean container. Refrigerate for at least an hour until it has fully cooled and firmed up.
To finish the tarts: Spoon some lemon cream into the tart shells, filling all the way to the top. Shake the tarts lightly to smooth out the cream out. Chill tarts in the refrigerator for about an hour before serving.
Recipe by
Dessert First
at https://dessertfirstgirl.com/2013/08/valrhona-and-measured-indulgence-new-lemon-tart.html