Chocolate Macarons with Peppermint Ganache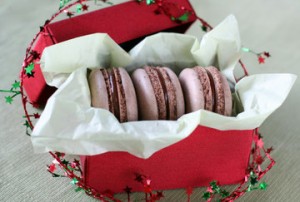 Serves:
about 40 macarons
175g almond meal or ground blanched almonds
200g confectioners' sugar
25g cocoa powder
200g sugar
50g water
150g egg whites, divided into two 75g portions
100 g bittersweet chocolate, chopped in pieces
100 g cream
¾ tsp peppermint extract
Stack two baking trays on top of each other. Line with a silicone baking mat or parchment paper.
Process almond meal with confectioners' sugar and cocoa powder in a food processor. Sieve out any large bits of almond.
Combine sugar and water in a saucepan. Heat on medium until all the sugar is dissolved.
Meanwhile, place 75g of egg whites in a mixer bowl with the whisk attachment.
Continue cooking until the sugar syrup reaches 118 C/245 F. While the sugar is cooking, begin whisking the egg whites. They should reach stiff peaks by the time the syrup is at 245 F. If it whips too fast, turn down or turn off the mixer.
Turn the mixer speed to low. Carefully pour the sugar syrup in a slow stream into the mixer.
Turn the mixer speed to high and let the meringue for several minutes until it has cooled and appears glossy and firm.
In a large bowl, combine the almond meal mixture with the remaining 75g of egg whites until partially combined.
Scoop the meringue on top of the almond meal mixture. Using a spatula or dough scraper, carefully fold the meringue in, trying not to deflate it. The final batter should be thick and flow slowly like magma. Do not overmix.
Scoop the batter into a piping bag fitted with a ½" diameter plain tip. Pipe 1 ½" rounds of batter onto the prepared baking sheets. Let the sheets sit for about 20 minutes to let the shells harden.
Meanwhile, preheat the oven to 160 C/320 F.
Bake one set of macarons for 15 minutes, rotating once. Let tray cool for a few minutes before removing from the silicone mat. Let finish cooling on wire racks.
Place the chocolate in a medium bowl.
Bring cream to a boil on the stove, then pour over the chocolate. Let it sit for a couple minutes and then stir to melt and combine the chocolate with the cream.
Add in the peppermint extract.
Let the ganache cool and firm up; when it is solid enough you can spread it on the macarons as a filling. If it becomes too firm, you can warm it carefully over a pot of simmering water.
Recipe by
Dessert First
at https://dessertfirstgirl.com/2007/12/tis-the-season.html