I can't help it: no matter how crazed with end-of-the-year things-left-to-do I may be, how bitingly cold the weather has been (hey, I'm a California girl – I don't do cold weather), or how desperately I'm trying to avoid the clarion call of consumerism (and the endless "SALE!" ads in the mail), I love, love, love Christmas and the holidays.
I'm helpless before storefronts bedecked in glittery ornaments, little black dresses and flutes of champagne at sleek soirees and cozy gatherings, little children bundled up in scarves and puffy coats, and kitchens smelling like gingerbread and mulling spices. Have I mentioned my boyfriend's new favorite drink is mulled cider of his own recipe?
I also love sending out holiday cards, and finally finished mailing them out today – I know, I'm one of those late ones. But judging by the lines at the post office, I'm in good company, at least. Not everyone's a fan of writing cards, I know, but I spend so much of my time tip-tapping on the computer these days, it's nice to actually put pen to paper and recall what it's like to form your thoughts by hand.
Alas that I can't send you all holiday cards, so I hope the electronic medium will suffice to convey my holiday greetings to all of your dear readers. It's been a big year for me in so many ways, and I'm glad that I've been able to share so much of it with you. I've never been more touched by the kindness and camaraderie among bloggers than this year, when so many of you wrote in to congratulate me on my book and to offer your support. Realizing how many friends I have out there and how wonderful they are has been one of the most rewarding parts of doing this book. I sincerely thank all of you who have supported me!
Besides, of course, my lovely blog tour hosts, I also wanted to thank Meeta of What's for Lunch, Honey? who has kindly asked me to help judge her Monthly Mingle for December. The theme is World of Spice Cookies, and there will be a winner chosen, with a copy of my book as the prize! The deadline is January 5, 2009, so why not fit some cookies into your holiday kitchen plans?
Also, Susan of Food Blogga is hosting her own cookie event, Eat Christmas Cookies: Cookies from Around the World, which is, coincidentally, what my book is all about. One lucky winner for this event will also win a copy of my book! Wow, I guess Santa's going to have a lot of copies of my book in his sack this Christmas! The deadline for Susan's event is December 21st, so get your entries in quickly!
(By the way, I am compiling links to reviews and mentions of my book online, so if you've mentioned my book on your blog and you'd like me to link to it, please let me know!)
Finally, I have to give gros bisous to Dorie Greenspan, for being such an inspiration and for her cheerful support. Dorie, I hope you're not too tired of me gushing over you, but I have to thank you for writing such kind words about my book on both your blog and in the State of the Cookie debate on Slate. How unbelievably amazing to have an author and baker I've long admired writing about my book – I'm beyond flattered!
In case you didn't get a chance to read the New York Times yesterday, I was interviewed for an article on butter and its role in cookies. They quoted some of my tips for working with butter and also included a recipe for TV Snacks from my book. These cookies, of course, were created by pastry chef Arnaud Larher and written up by Dorie Greenspan herself, so again, Dorie, thank you for letting me adapt them!
One exciting thing you can see is that the butter article was the #1 e-mailed article yesterday!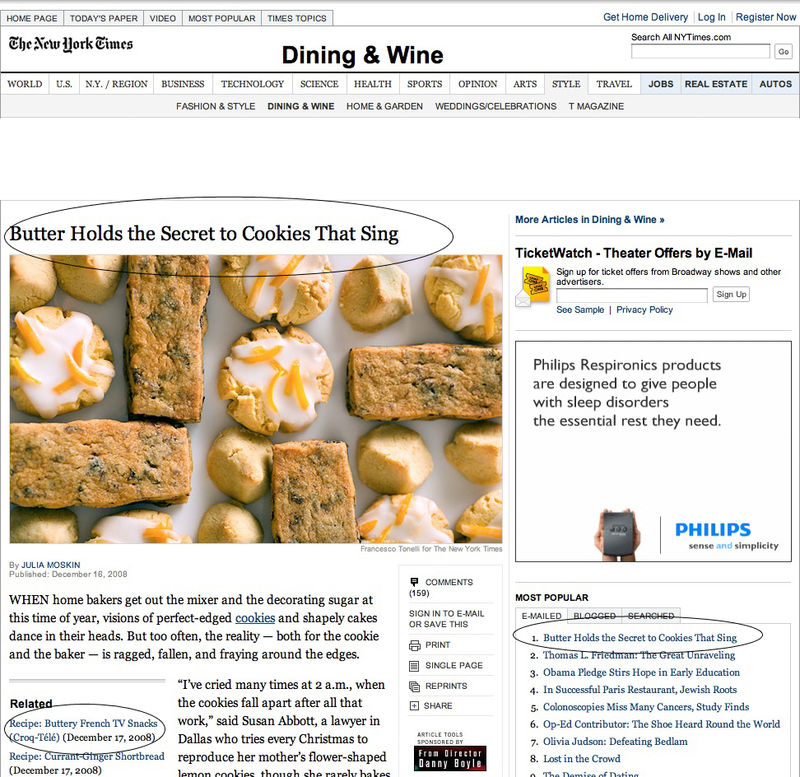 You can see the TV Snacks in the photo – they're the pyramid-shaped ones.
Here's the portion of the article where I'm actually quoted:
Ok, so you must be wondering if I'm making anything besides cookies these days? Why, yes. For the last week I've been indulging in a love affair with that confection known as English toffee.

It may come as a surprise to some of you that English toffee is in fact an American creation; or, at least, the chocolate and nut-covered slabs of toffee that most of us call English toffee. English toffees are a dazzling, dizzying world onto themselves, as anyone who's ever stepped into an English sweet shop can attest: toffees often come as individual drops, flavored with treacle or licorice or studded with Brazil nuts, and ranging in texture from chewy to so-hard-you-can-only-suck-it. The British also have toffee in slab form: they usually aren't covered in chocolate, and are traditionally broken into pieces with a small hammer – certainly a way to liven up your next party!
However, in most of North America English toffee is recognized as pieces of golden, buttery, hard toffee drenched in a blanket of chocolate, and topped with crown of roasted nuts, usually almonds.
English toffee is also known as buttercrunch; I've developed a deep fondness for the word, not only because it eliminates the confectionery confusion surrounding the term English toffee, but also because of the luscious evocativeness of the term. Buttercrunch: buttery-rich and crackling-crunchy at once. What could be more tempting?
One taste of this candy and it's easy to see why it's so popular; I certainly couldn't stop at one taste! The toffee should taste of sweet, sugary caramel, generously enriched with butter for a creamy, full, flavor. The rich, dark chocolate helps ground and round out toffee, a smooth, deep bass note to toffee's piccolo-like bursts of sweetness. The almonds on top up the decadence factor by another notch.
Tins of buttercrunch are near-ubiquitous during the holidays; they have become synonymous with indulgence and celebration. However, this candy is surprisingly, perhaps dangerously easy to make at home, so you don't need to buy the overpriced stuff at the supermarket, just pull out your candy thermometer!

Although the classic buttercrunch is garnished with roasted almonds, I decided to put my own spin on things and use pecans instead. I also added a sprinkling of fleur de sel to heighten the sweet and salty contrasts: the result is almost insanely addictive. I put the container in the cupboard to prevent mindless noshing, and then discovered that a few days' seasoning makes the flavors even better! However, I wouldn't be surprised if your batch doesn't make it that long! Tied in cellophane bags or packed into tins, this buttercrunch will surely be one of the sweetest, and most happily received gifts of the season.
A couple of notes: when making the toffee, try to pour it out as evenly as possible. Also try not to make it too thick, as that might make it difficult to bite through when it's hardened. You can try to use an offset spatula or knife to spread the toffee around, but don't manipulate it too much: it sets up quickly.
Toffee, like most other confections, are quite sensitive to humidity. Definitely store your buttercrunch in an airtight container in a dry place, or it will get soft and sticky quickly.
Many English toffee recipes do not call for tempering the chocolate. Instead, you can simply pour melted chocolate on top of the toffee, or even put chocolate chips on the still-hot toffee and spread it around with a knife to let it melt. I am a fan of tempered chocolate, because I think it tastes better (it's got that snap when you bite into it) and it looks better (shiny, smooth, and hard). Tempered chocolate, of course, also keeps better: it won't melt or get damaged as easily as a soft chocolate coating. However, I understand that tempering can be a time-consuming process that requires Zen master-like patience, and I also don't have the space in this entry to provide a Tempering 101: Tutorial, so I completely understand if you'd just rather stick with plain melted chocolate. Do use a good quality chocolate no matter what, though: a luxurious confection like this deserves the best of ingredients. I used my Callebaut 54%.
(I hope to cover tempering in a post in the future. In the meantime, if you want a good, clear guide to tempering, go to David Leibovitz's post here.)

I hope you are all enjoying the holiday season with your loved ones. Since I'm not sure I'll get in another post before Christmas, I'd like to wish you all a Merry Christmas and hope that Santa leaves you something sweet underneath the Christmas tree – or should it be the other way around for us bakers?

3/4 cup ( 5 1/4 oz)

sugar

1/2 cup (4 oz)

light brown sugar

1/2 cup (4 oz)

unsalted butter, cut into pieces

1/8 teaspoon

baking soda

1 teaspoon

vanilla extract

1 cup

pecan halves, toasted and chopped into small pieces

fleur de sel
Line a baking sheet or pan with a silicone baking mat.
Combine the sugars, butter, vanilla, and salt in a medium saucepan. Cook over medium heat, stirring to combine, until it comes to a boil.
Continue cooking without stirring until the mixture reaches 298°F on a candy thermometer.
Remove from heat and stir in the baking soda and vanilla.
Pour the mixture onto the baking sheet and spread it out evenly, working quickly before it sets. Let the toffee layer cool completely.
Either temper the chocolate or simply melt it in a double boiler. Pour the chocolate over the toffee layer and spread out evenly.
Immediately sprinkle the pecans over the chocolate. Sprinkle a few grains of fleur de sel over the chocolate. Let the chocolate fully set.
Break the toffee into pieces before serving.