In about a week and a half, Field Guide to Cookies: How to Identify and Bake Virtually Every Cookie Imaginable
 will be officially released. I know I've mentioned that it's already begun showing up in bookstores, but just like people have birthdays, so should books! So we're sticking to the November 19th date, and I'm so excited to see the culmination of a year-long project!
I took a look back at what I wrote about Dessert First when I began it, over two years ago. In one paragraph I had written,
"I had started Dessert First as a way to combine several of my interests: baking, photography, and writing. Now it had become a springboard for me to share with world how I feel about the beauty and joy of food."
At the beginning, when I was still figuring my way about the Internet and the myriad mysteries of blogging, when all I ever intended was to document all the things I'd made in the kitchen so I wouldn't forget what I'd done, I never dreamed of how far Dessert First would take me, all the wonderful people around the world I'd meet, and all the opportunities it would afford me. I believe that right around when I started blogging, was when the first, trailblazing wave of food bloggers like Clotilde and Pim, Heidi and Molly, were starting to make the great leap from blogging as a hobby to food as a career, and to me their successes seemed a faraway, amazing goal that I might one day be able to aspire to myself. That I managed to land a cookbook of my very own in just two short years is something I still pinch myself about daily.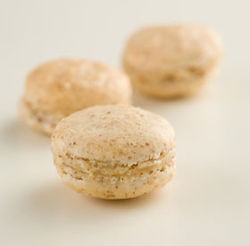 This has been an astonishing learning experience for me, and not the least lesson I've learned is that if you really love what you do and you keep at it, good things will come to you. It may take a lot of hard work, but anyone who has the dedication and energy to create and run a blog, I believe already possesses the qualities to be successful in many other endeavors. I learned so much doing this book, but I also realized that in many ways writing Dessert First was great practice for "the real thing": I knew what it was like to produce creative output on a regular basis; I knew about testing and writing recipes in a clear fashion; I knew about styling and photographing food attractively; I knew about working online with people I may have never met in person, corresponding and collaborating with others towards a common goal. Blogs are really such a great thing; I'm sure that's just repeating the obvious to all you other bloggers reading this, but I hope you all realize as well what a powerful platform it can be, both for yourself and for your life goals. I'm so happy that I started Dessert First, not because it helped me get a book deal, but because it also helped me improve myself in so many ways.
So! There's so much to share about Field Guide to Cookies, but I thought instead of having me just blab on about it, it would be much more fun to hear what other voices have to say about it. To that end, I've organized the official Field Guide to Cookies Blog Tour, starting tomorrow, Nov. 11th, and running through November 21th.
I enlisted nine of my favorite baking bloggers to review my cookbook and give their thoughts on it. These are some of my best friends in the blogosphere, as well as the creators of some of the loveliest and most accomplished blogs out there, and I'm very, very grateful and excited that they all agreed to do this!
Here's the schedule:
Nov. 11th – Jen of use real butter
Nov. 12th – Ari of Baking and Books
Nov. 13th – Sara of Ms. Adventures in Italy
Nov. 14th – Ivonne of Cream Puffs in Venice
Nov. 17th – Helen of Tartelette
Nov. 18th – Veronica of Veronica's Test Kitchen
Nov. 19th – Aran of Cannelle et Vanille
Nov. 20th – Bea of La Tartine Gourmande
Nov. 21st – Peabody of Culinary Concoctions by Peabody

Isn't it exciting? So many gorgeous blogs with talented bakers to visit. I can't wait for tomorrow!
I'd like to also take this chance to thank some of the many people who helped me on this book: Mindy, my publisher at Quirk Books who gave me the chance to write this cookbook; Margaret, my editor who tirelessly worked with a nervous first-time author to perfect the manuscript; Caroline, my pastry chef, who lent me invaluable advice and was an expert recipe tester – she's the most generous person I know, inside the kitchen and out; Robyn, my pastry school classmate and fellow co-worker who also contributed her time, kitchen, and encouragement to the book; Renee, who did double duty as a recipe tester and as my guide to the wild world of publishing; and Monica, who tested recipes and was also my fab hostess in New York when I traveled there.
The full acknowledgements are in the back of the book – I don't want to drag out this post by reproducing the whole thing, but I did also want to mention Mike, my super fantabulous boyfriend who probably didn't realize when I took on the book that he had agreed to long nights with me hunched over the computer, or cookie dough all over the kitchen, or panic attacks when I didn't think I could finish. He never, ever complained, and supported me unwaveringly throughout the whole journey. I love my boyfriend!
Also, I want to thank Mary Risley, owner of Tante Marie's Cooking School, where I did the professional pastry program. Mary generously agreed to host my book release party this Saturday, Nov. 15th. The current class of pastry students will be making cookies from my book, and we'll be having a little celebration!
I really wish I could have all of you faithful readers come, and what I'd like to do is extend an invitation to the book release party to the first 10 people who respond. Simply leave a comment to this post saying you'd like to attend; the first 10 people to do so will be added to the guest list. This party is in San Francisco this Saturday, so be sure you can make it to the city!
For those who can't make it, don't despair: I'll be having a giveaway of my book later during the blog tour. I also hope you can visit all the blog tour hosts and get a bigger taste of Field Guide to Cookies!
Please be on the lookout for book at all major booksellers, or you can order online. Thanks so much again for all your love and support. I'll see you all tomorrow at Jen's use real butter!